Central Government Employees Service Rules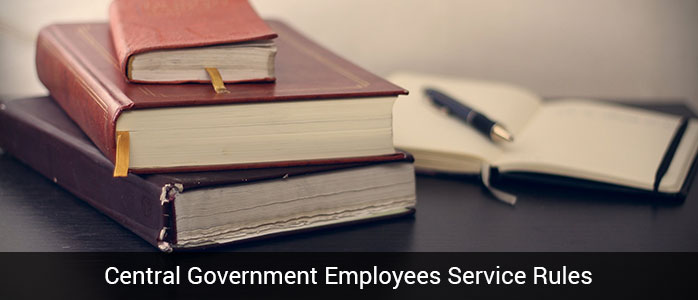 The Government of India amended Central Government Employees Service Rules in 1964. These service rules are especially enacted for the central government employees to act accordingly in their employment period till retirement age. These rules are guided by Article 309 and clause (5) of article 148 and are being notified by the Ministry of Personnel Public Grievances and Pensions department.
Central Government Employees Service Rules info:
Service rules are a set of guidelines that every central government employee must follow in his employment period until he/she attains retirement age. It is available in a document format carried out by the Indian government on 30th November 1964.
service rules were instituted to eradicate corruption and deceitful practices. Especially to impart professionalism among the employees who were working under government firms.
Central government employees service rules were guided by the respective law and sections. If in case an employee fails to obey these rules then they will be subjected to a punishable offense. 


List of Central Government Employees Service Rules:
List of Central government employees service rules. In accordance with their respective field or department. Given Below
Service Rule 1:
These rules are commonly known as All India service rules 1968. Also called CONDUCT rules. These service rules commences from the day itself got published through the official gazette.
Service Rule 2:
The person who is servicing under union affairs and foreign services comes under central government employees. The person who is servicing the affairs of state comes under state government employees. 
Service Rule 3:
This is all about maintaining several duties as a responsible individual under central government employees service rules that involve:
Section 3 (1) defines
- bound with integrity
- being responsible for duty
- maintaining high ethical standards, being neutral in politics, hospitality and many other principles to maintain high professionalism.
Section 3 (2) defines every central government employee must obey his superior official orders which are provided through writing.
Section 3 (A) defines maintaining promptitude & politeness.
Section 3 (B) defines having a clear objective regarding government guidelines
Section 3 (C) defines the prevention of sexual harassment of working women.
Service Rule 4:
A civil servant should not use his position or power to allow their family members to work under private undertakings & NGO. The acceptance should be provided by the government for further dealings with such companies.
Service Rule 5:
Central government employees were not allowed to participate in political parties/ meetings or even in agitations done by political leaders. Any Government employee should not work in favor of any political party or leader. 
Service Rule 6:
Central government employees are not allowed to engage with any media publications or newspaper firms. Except for the one with acceptant discharges of official duties with his position.
Service Rule 7:
The government employees must be aware of their behavior and speech that should not involve criticism. Relating to the central government and state government in any situation/ manner that causes adverse effects leading to face the consequences further.
Service Rule 8:
One should not engage in providing any proof or evidence related to the inquiry reported by any superior bodies. Except for any previous permissions from the government. But it does not includes 
- Providing evidence for juridical purposes.  
- Providing evidence for an authority before appointing by the government or parliament.
- Providing evidence on commands from departmental superiorities. 
Service Rule 9:
It is guided under Right to Information Act 2005 (clause 22 of 2005). It is to communicate the received information or commands precisely to any government servants without any vagueness by official orders. 
Service Rule 10:
One must not engage in developing funds and subscriptions even monitory collections with respect to any reason in any aspect or manner.
Service Rule 11:
Central government employees should not accept gifts and presentations from any individual. That includes free transportation and boarding and also related to personal interests. The acts under social hospitality cannot be considered gifts.
Service Rule 12:
One must not avail pressure to establish any formal statements or receive any complimentary from superiorities. Except with previous permissions from the government.
Service Rule 13:
One should not be involved in doing any such kind of business activity without government sanctions. He should not engage in taking part in any forms of banking. But admissible for charitable trusts or scientific innovations and things related to sports and promotions. A civil servant should not avail fee for levying his/ her duties.
Service rule 14:
No central government employee is allowed to invest in share markets. Just like NSE & other investments like economic loans which are mostly related to business and international shipping activities.
Service rule 15:
One must be aware of managing personal affairs which might lead to financial indebtedness. These aspects do not entertain the behavioral aspects of central government employees because they might be stated as financial insolvent for abandoning financial debts.
Service Rule 16:
Assets like both movable & immovable properties owned by any central government employee during his employment period or post-service period. Even shares and property along with monetary sums including fixed deposits that are inherited and even debts that are liable to him.
Service Rule 17:
This rule passes the statement that central government employees could not take help from any superior authorities or media. It is because one might influence them to prove himself/ herself as right with respect to any official matters.
Service Rule 18:
No government employee must indulge in any political parties or higher authorities to influence his/ her superior officials for his or her personal benefits and interests that affect in the long term further.
Service Rule 19:
It defines restrictions over marriage i.e. no central government employee can marry the spouse living person or be a married person then should not enter into a marriage contract with another one.
Service Rule 20:
Central government employees are not allowed to be under the state of consuming intoxicating pills & drugs. Also with an intoxicated appearance in public and excessive usage of drugs while discharging official duties.
Subsection 22(A) defines no central government employee can allow a child for labor work below 14 yrs.
Service Rule 21:
It includes the interpretation of amendments and laws implemented by the government. If any queries related to interpretation then the government has power to resolve by revising those amendments. 


Service Rule 22:
The directions provided by the government under these service rules by special commands are enforceable. Except that comes under service rules 23 & 24. Followed by respective authority or official superior by orders.


Service Rule 23:
When a person comes into any civil servant forces then all these above-mentioned rules will apply to him/ her as a central government employee. If any infringements occur to these rules then the respective person is responsible for the punishable offense. 
FAQs on Central Government Employees Service Rules:
Can a civil servant / central government employee be eligible to enter the private sector?
When a person who is in the charge of civil services should not indulge in business activities. Related to private or public either. But he can avail with the previous sanction from the government.


Can a central government employee publish a book in India?
There is no strict prohibition on publishing a book in India by central government employee. There are some restrictions on fragile aspects. Like not criticizing the government and favoritism towards political parties & violation of above conduct rules.


Are Central Government Employees / Civil Service Officers allowed to invest in stocks?
Obviously not. Central government employees service rules -16 comes into action if any respective government employee found out investing in shares & stocks. He is liable for the punishable offense. Unless any permission from the government.


Latest Posts