esampada Portal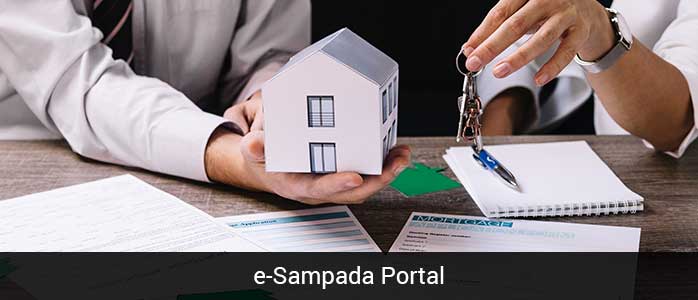 About esampada portal :
The government had taken an initiative called esampada. This is to control all the government estate services under a single webpage. E-state services refers to allotment for nearly one lakh government residential accommodations. And also office space allotments to government organizations in 28 cities. Also 5 venues and Ashoka road for social activities. This portal simplifies and paves the way for various processes on just a single platform throughout the country. With the view of making One Nation - One System. It integrated four websites like gpra.nic.in, eawas.nic.in, estates.gov.in, holiday homes.nic.in and also two mobile apps like m-awas and m-ashoka5 of directorate estates. Enabling us to make things done in just a single portal instead of making the process complicated. Government can reduce the time and efforts by the optimum utilization of resources. And can also reduce the efforts for frequent visits to the directorate of estate. Also, it helps the government maintain accurate reports in one portal. Rather than maintaining different various websites for each category. The step towards e-governance is to build transparency in these services. In the matters of allotment, retention, no dues certificate and regularization. Promotes ease of living for all departmental and official superiors. One can avail all those services through a single window and also conduct live tracking status of applications. 


esampada Registration :
This automated process will lead to greater transparency of work processes. Also omits the mistakes by minimizing the human interventions. Facilitates the users to file complaints, submit documents and appear for a virtual hearing in just a single portal. 
One has to follow the sequential steps as mentioned here to get registered under the esampada portal.
First, go through the website i.e., esampada. mohua.nic.in

Click on the esampada official website and it leads to its interface. 

Select login at the top right of the page. 

Signup with registered mobile number or email. 

You can login into that portal by entering the provided OTP.

Then you need to complete the profile by submitting the following documents. (you must scan these document copies in PDF format only up to 400kb in size). 

Pay fixation order for the present post.

Current pay slip.

Joining order in government services. And then click ok.

Update the profile with required details. 
Now you are registered under the esampada portal. This is the entire process of registration on the esampada   website. Now you can access your dashboard to book online holiday homes and filing complaints regarding grievances, etc.,


esampada holiday homes online booking :
Every government employee can avail estate services in the esampada portal. We will let you know how to book holiday homes online. For that, you just need to follow these steps as mentioned over here. 
Login to esampada portal. 

Select holiday home/ guest house opening option from the left column to the page.

It leads to a dashboard, then click on the book now option.

By default check rate for stay pop up will be generated. 

Again click on the book now at the bottom.

Then you need to provide various required details like visit purpose, applicant category, guest house, check in and check out dates and room types & no. 

It will redirect your page to bharatkosh.gov.in webpage for payment purposes. 

Enter the captcha and click confirm.

Select the payment gateway through the bank success rate. 

OTP will be generated to the registered mobile number after the payment. 

You need to download the generated document in pdf format. 
One must carry the hard copy of that document. In order to continue with the further process. And also it is a necessary document at the time of check in.  


esampada portal info :
This information is about allotments made under this esampada portal. Union housing and urban affairs minister Hardeep Singh Puri stated now they rationalized the allotment of government accommodations. The center has moved away from patronage. The minister's remarks come against the backdrop of the ministry asking the leading artistes and along with Padma Shri awarded Bharati Shivaji to vacate their allotted government residences. Every government employee must know the aspects provided in estate services. To make things done in less time. The benefits provided by the government under this initiative are as follows. 
Providing 109474 government residential accommodation at 40 locations.

Allocating 1.25 Cr square feet office spaces in 45 office complexes T 28 locations.

1176holiday home rooms/ suits for government officials at 62 locations. 

Booking of venues for conducting social functions.

Booking of vigyan bhavan. 


esampada mobile app download :
Not even on desktops, but one can download the esampada mobile app from the play store. One can enable all features related to estate services through mobile itself. It allows a user-friendly interface for the users. Every government employee can utmost use it. This app allows us to do the entire process in one go. It acts as one stop solution for all the estate services.
 
Conclusion :
This blog intends to provide information on the esampada portal. Hope we got cleared all your queries pertaining to this portal. Here we have shared the quick guide for login and registration on the esampada portal. Let us know if you have any doubts regarding this topic. We will update you soon. Follow our blog posts to get more updates on articles on government employees and related articles. Thank you. 


esampada | esampada login | directorate of estates e awas login | esampada portal | e-sampada | e awas gpra | esampada website | esampda | eawas.nic.in login | esamapada | esampada app | esampada registration | e awas directorate of estates | esampadha | esampada booking | esanpada | esampada.mohua | esamoda | e-sampada holiday homes | esampada helpline | esampada customer care number | esampada.mohua.gov.in login | holiday homes.nic.in | esampada mohua gov in | esampada. mohua. gov. in |esampada.mohua.gov.in | gpra login | one nation one platform portal.

Latest Posts