Government Employees Maternity Leave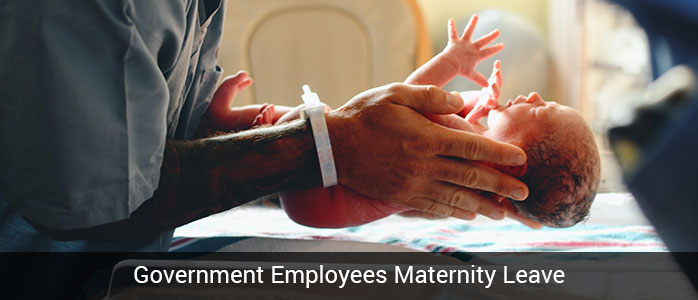 An act has been ratified by the Government of India in the 12th year of Republic of India with concern to empower the women employment regarding government employees maternity leave. In simple words, maternity is the span of duration that is between during the pregnancy & shortly after childbirth.
This act was enacted by the Parliament of India on 12th December, 1961 which was referred as Maternity benefit act, 1961 being notified by the Ministry of health and family welfare. 
There are some conditions provided under this provision related to government employees' maternity leave, which are entitled to female working employees during their maternity period. 


Objective of Maternity benefit act, 1961:
The maternity benefit act, 1961 is regulated by article 24 under the constitution which is extended to whole India entitled to female Government employees maternity leave that provided for the maternity benefit under the secure and humane grounds of those who are working in factories, mines, plantations, shops & establishments who have 10 or more employees for a certain duration of time before & after child birth along with monetary & service benefits. Earlier, with accordance to this act, only 12 weeks (3 months) were used to be provided for the government employees maternity leave but later on 2016 bill has passed the amendment by enhancing the maternity period up to 26 weeks. Along with other benefits like :
'Commissioning mother' & 'Adopting mother' will be entitled for maternity leave up to 12 weeks.

Facilitates work from home option.

Making it mandatory for female employees working under organized sector except who were recognized under Employees' State Insurance. 


Conditions for Government Employees Maternity Leave :
There are quite differences among providing benefits for maternity to that of miscarriage's as well. For better understanding, let's have a quick look at this below tabular format. 




Provisions for Government Employees Maternity Leave :
One must attain all those following aspects in order to get the benefit of female government employees maternity leaves.


Appropriate Government: One has to work in those constructions/ establishments/ outlets that are recognized by both state and central government as organized sectors. 


Wages: It refers to the monetary sum that has been paid to the female employee on 'Contract of Employment', express or includes :
Cash allowance (DA & HA)

Incentive bonus. 

Cash allowance on supply of food grains. 
It does not includes :
Bonus other than incentives.

Earnings through overtime.

Contributions/ gratuity 


Medical termination of pregnancy: According to the sec (3) of Medical termination of pregnancy 1971, it is admissible for the termination during the gestation period.


Employment of work prohibited during certain periods: It states some aspects under which the pregnant women were not allowed to work such conditions
No employer must allow women to work for 6 weeks right after the delivery.

Must not be allowed to work for 6 weeks right after miscarraige.

Should not be allowed to work that contains an arduous nature of work.


Right to payment of maternity benefit: Every woman is entitled to provide the monetary pay as the last drawn salary under the Minimum Wages act 1948, even in her absence due to maternity leave even without a medical certificate. 


Nursing breaks: Every woman has a right to avail for two breaks in working days after the completion of maternity leave till the child attains 15 months.


Registers: According to the section 20 of act, each and every employer must maintain written documents of registering, records & muster- rolls in a well prescribed manner.


Penalty for contravention by employer: If any employer fails to avail his/ her duties regarding a woman who is eligible to attain the maternity leave then he/ she should be punished under section 21 of Maternity Benefit act.


Eligibility: The respective female employee must work for atleast 80 days in prior 12 months to get eligible for applying maternity benefits. 


Key Highlights for Government Employees Maternity Leave :
Prior information: Every organization needs to provide each detail of the information regarding maternity benefits under the law.


Marriage status: Every female can attain maternity leave irrespective of marital status i.e. either married or unmarried.


Increase in maternity benefit: The duration of maternity leave has been enhanced from 12 to 26 weeks. Whereas, 2 weeks has been extended i.e. in total, 8 weeks were provided prior to expected delivery date.


Adoption: A woman who adopts a child below 3 months or even a biological mother (commissioning mother) can be eligible to attain 12 weeks of maternity benefits.


Latest Posts