Maternity leave for central government employees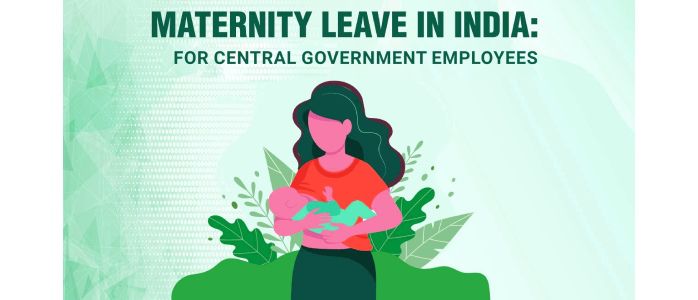 maternity leave for central government employees :
On 12th December, 1961 the Indian government started an expedition called Maternity benefit act 1961. In a thought to empower the female employees by prioritizing their mental health and financial well-being during their maternity period. I.e. the period that includes both the gestation period and postpartum. With a vision to provide them a nurturing environment where women can fully embrace the joys of motherhood without the burden of financial strain or career setbacks.
The Indian government initially enacted this act under the Ministry of Health & Family welfare. Though this act involves some certain provisions that benefits both the mother and child and the father too.
maternity leave for central government employees latest news :
This maternity leave benefit can be availed by the women all over India who are working in factories, industries and in a small firm comprising over 10 employees during their pregnancy period. Means making it mandatory for those who are working except who are recognized under employees state insurance. Initially, the act considered up to 3 months (12 weeks) and then was enhanced to 26 weeks (approx 6 and half months) with the bill passed in 2017. But it facilitates pregnant working women to make use of 12 weeks leave prior to conceivement. And then remaining for postpartum.
maternity leave application format :
Here's a sample format on how one can claim their maternity leave approved by their employer. It's good to go with an official mail format or a handwritten copy initially as shown below. However some valid documentary proofs will be required further in order to be approved by the official management or by the government. Those documents mostly consists -
If application before the delivery (for 12 weeks off ) :
Medical Certificate confirming maternity from a certified surgeon/gynic.
If application after the delivery (for 26 weeks off ) :
Hospital discharge summary certificate.
Newborn birth certificate.
We should fill form D as the below shown format.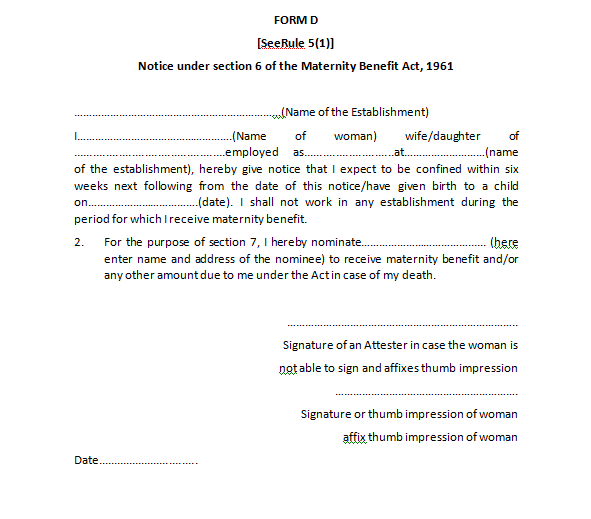 maternity leave rules for government employees :
There are specific conditions and leave policies adhered by the maternity benefit act 1961. One must know of all the policies to know whether you are eligible enough to claim all those benefits. However, being unaware of those provisions unfortunately might eliminate you from the benefits under this scheme.
Government approved firms: One should work in a firm that is officially recognized by the government of state or central.
Remuneration: This term denotes the financial compensation disbursed to female employees under their "Employment Agreement," either explicitly or implicitly. It includes:
Monetary allowances such as Dearness Allowance (DA) and House Rent Allowance (HA).
Incentive bonuses provided as encouragement.
Cash allowances provided for the provision of food grains.
However, it excludes the below:
Bonuses other than incentives.
Earnings generated through overtime.
Contributions or gratuity.
Pregnancy Termination for Medical Reasons: As per Section 3 of the Medical termination of pregnancy act -1971, it is permissible to terminate during the gestation period in cases that meet the criteria outlined in the legislation.
Employment Prohibition during Specified Periods: There are certain conditions under which pregnant women are prohibited from engaging in work. These conditions include:
The employer is prohibited from allowing women to work for 6 weeks immediately after childbirth.
We must not permit women to work for 6 weeks after a miscarriage.
Women should not be engaged in arduous or physically demanding work.
Maternity Benefit Payments Entitlement: Every woman may receive monetary compensation equivalent to her last drawn salary under the Minimum Wages Act of 1948, even during her absence because of maternity leave, and this entitlement holds true even in the absence of a medical certificate.
Nursing Breaks: After the completion of maternity leave until the child reaches 15 months of age, every woman may claim two breaks during working hours for nursing her child.
Registers Maintenance: According to Section 20 of the Act, it is mandatory for every employer to maintain written registers, records in a prescribed manner.
Penalties for Employer Contravention: If an employer cannot fulfill their obligations towards a woman eligible for maternity leave, they may be subject to penalties under Section 21 of the Maternity Benefit Act.
Eligibility Criteria: To be eligible for maternity benefits, the female employee must have worked for a minimum of 80 days in the preceding 12 months prior to applying for maternity benefits.
FAQs for maternity leave for central government employees :
What are the basic conditions for maternity leave?

The female employee can avail 180 days of maternity leave once certified with a recognized gynecologist. Despite marital status, this act benefits both the married and unmarried women. Also, one should possess less than 2 children to get eligible under this act.

Can we claim maternity leave for miscarriage?

Absolutely yes, here in this condition the women can claim the benefits as same as maternity leave. Besides that, it is granted irrespective of possessing children.

Do we get maternity leave for adoption?

Yes, if a working woman adopts a 3 months child or below can claim 12 weeks of maternity leave. This even applies for biological mothers.

What are the salary benefits for maternity leave?

Other than the benefits from maternity leave for central government employees, no salary benefits will be provided for the pregnant employees. Like bonuses other than incentives, overtime earnings & Contributions or gratuity etc. Whereas, these are benefited only with miscarriage conditions.
maternity leave for central government employees, maternity leave for central government employees 2016, maternity leave for central government employees 2022, maternity leave for central government employees 2017, Central Government employees, Maternity leave, Government employees update, Central Government employee Leave updates, Leaves for Central government employee, Ministry of Defence (Finance).
Latest Posts