Edge PC 50 - Intel® Celeron® Processor N2807, 4GB RAM, 500GB Storage, Windows 10 Home
Key Specifications
Intel® Celeron® Processor N2807, up to 2.16 GHz, 4GB RAM, 500GB HDD, Pre-loaded with Windows 10 Home
Zero Footprint CPU (VESA Mounting Option)

High Speed Internet With Dual Wi-Fi Internal Antennas
Edge PC by RDP is the most affordable personal computing range designed to meet the unique productivity requirements of students, professionals, and enterprises. This stylish yet compact PC perfectly helps you achieve all your personal computing goals while saving you energy and time.
With a Zero Foot-Print compact CPU, in-built Wi-Fi and Bluetooth features, RDP Edge PC is the perfect companion for your modern-day computing applications at home or in the office. Surf the internet, write content, play games, create presentation decks, binge-watch your favorite series online, prepare reports, and do a lot more, faster with RDP Edge PC.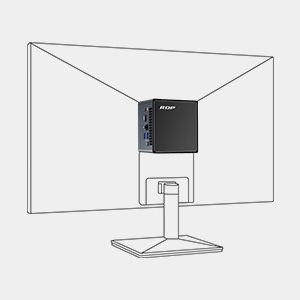 Zero Footprint CPU
This 0.69 Liter compact CPU you can mount behind monitor thru VESA bracket (included), weighs around 510 grams, even you can fix under the shelf / fix to a side wall as it looks beautiful !!!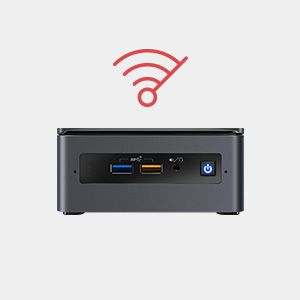 High Speed Internet
Experience the lightning speed of the internet access in Edge PC. With Dual Wi-Fi Internal Antennas, you'll have stable, long-range, always/instant internet connectivity - now do a lot more, faster.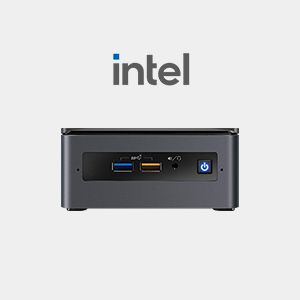 Intel Inside
Intel Inside - Amazing Experiences Outside, Edge PC is powered by Intel Celeron Processor. This low power consumption fan-less processor delivers exceptional performance for your daily computing tasks.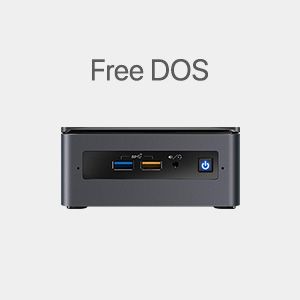 FreeDOS
FreeDOS - a free operating system, that allows you to run legacy business software, or develop embedded PC applications.

I/O Ports
Don't Limit Yourself, Expand possibilities, Edge PC comes with variety of I/O ports to connect majority of the peripherals of your choice - Internal Wi-Fi & Bluetooth allows to connect any wireless peripherals too..
microSDXC
DC In
HDMI 2.0a
RJ45
USB 3.1
Thunderbolt 3
USB 3.1
Headphone / Mic-in
Power Button
Target Use
Students
Sales & Marketing Executives
Doctors, Lawyers
Auditors, Managers
Admin Roles, Software
Engineers
Housewives, Content Writers
First/Second line workers in small business
Firstline workers in medium business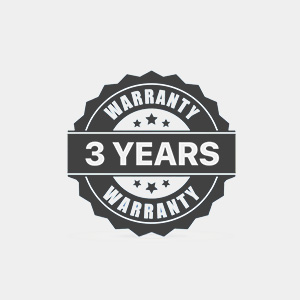 3 Years Warranty
Edge PC comes with 3 years of comprehensive Warranty for all the manufacturing defects, RDP has a robust mechanism to handle support queries thru support CRM to ensure every support ticket is resolved within the SLA, we call this as 'On-Time Support' every time !!!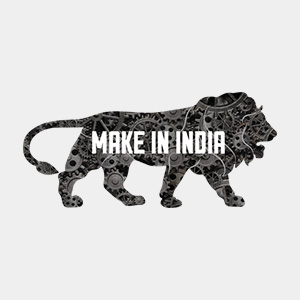 Make In India
Designed & Manufactured by Indians to the world, Edge PC is the most affordable personal computing desktop range by RDP is specially designed for Internet Users to meet the unique productivity requirements of students, professionals, and enterprises.
Technical Specification
Processor
Intel® Celeron® Processor N2807, up to 2.16 GHz

I/O Ports
1 x USB 3.0, 2 x USB 2.0, 1 x HDMI, 1 x VGA,
1 x LAN (Up to 1Gbps), 1 x Audio-out / Mic-in, DC-in
Sound Output / Input
Thru 3.5mm Jack
Bluetooth Headset / Speaker / Mic

Dimensions (W x H x D)

56.1mm x 107.6mm x 114.4mm

CPU Placing Option
Table Top / Mounting Behind Monitor (VESA bracket Included)
Warranty
3 Years Warranty
Package Contents
CPU, Power Adapter, VESA Bracket, User Manual